Skype for Business
Connect your teams with the experience they love, in the Office applications they use every day.
Skype Meetings provide audio, video, and web conferencing on the Internet, with the ability to schedule a meeting in advance or start one at any time. Join online meetings using Skype for Business easily with a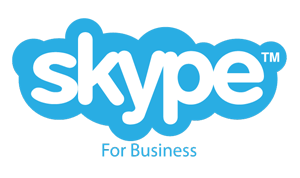 single touch or click from your calendar, meeting reminder, or the Skype for Business client.
Full HD quality video enables online meetings to play a more natural part of everyday business and collaboration, with 1080p resolution, and up to 6 people shown live simultaneously. Content sharing functionality allows you to focus on the things you're doing together, even when you're hundreds of miles apart, with integrated real-time co-authoring, desktop sharing, application sharing, and PowerPoint presentations.
Our award winning IT specialists are on hand between 9am and 5pm Monday to Friday to answer any questions about the products and services we provide.
The Hixon Group:
Unit 3, Carlton House,
Registry Street,
Stoke on Trent,
ST4 1JP
Telephone: 01782 365124
Email: support@vostro.co.uk
Get started with Skype for Business Today! Call 01782 365124
Why Choose Skype for Business?
Professional meetings and collaboration all integrated with your Office 365 apps.
Get started with Skype for Business Today! Call 01782 365124
Frequently Asked Questions
Looking for more information on Skype For Business.
Why did they change the name of Lync to Skype for Business?
Skype for Business brings together the familiar experience and user love of Skype with the enterprise security, compliance and control of Lync. End-users get a familiar Skype experience that's as easy to use at work as it is at home. Organizations gain reach into a network of hundreds of millions of Skype users across the globe. Plus, IT remains confident they're providing their organizations reliable, high-quality communications with security.
Will Skype for Business continue to be part of Office and Office 365 just like Lync was?
Yes. Skype for Business will continue to be a cornerstone of the value proposition and product experience for Office and Office 365.
How do current customers get Skype for Business?
Current Lync Server customers with Software Assurance will have rights to deploy Skype for Business. Office 365 customers with Lync Online will receive automatic updates as part of the subscription service.
Will Skype for Business users have accounts separate from their personal Skype accounts?
Yes. Skype for Business users will log in using their Active Directory ID credentials. Skype customers will continue to use their Skype IDs. Customer feedback indicates they're not ready to merge their personal work contacts.
Will users be able to access their Skype for Business accounts through the Skype client or Skype mobile app?
No. There will be separate desktop clients and web and mobile apps for Skype and Skype for Business.
Get started with Skype for Business Today! Call 01782 365124